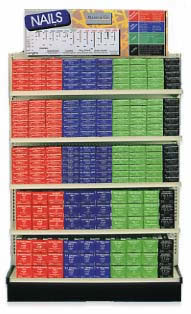 For many years, Mazel & Company has been helping our customers with the merchandising of our packaged nail and screw program. We have brightly colored boxes to distinguish category, easy to read colored labels that feature a detailed description and picture of the product, UPC codes on all products and tear-away, self displaying master cartons.
We can provide our clients with custom planograms to address specific product needs and space constraints of their stores. Nail and screw sets can be designed from as small as two feet or as large as 40 feet or more. We can design special end caps or promotional sets. We also provide shelf header signs with detailed product information.
Mazel & Company's color coordinated packaging, user friendly signs and account specific planogram design are all merchandising features that can make the fastener department look more organized, easier to shop and restock, and improve sales and profits.